The Barry Bulletin
Industrial Q3 2017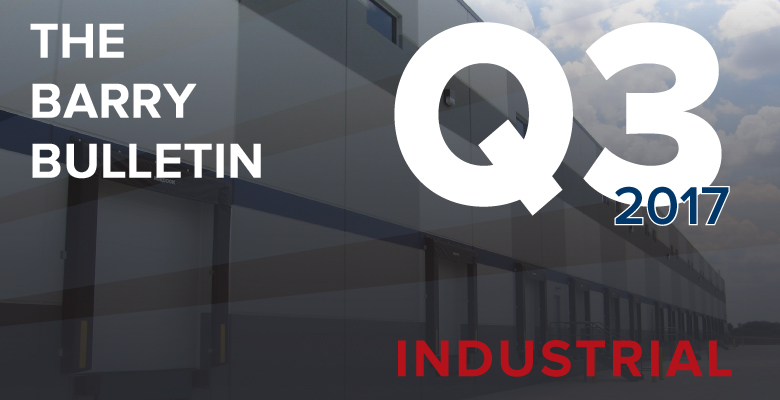 Milwaukee industrial market experiences strong quarter
The Milwaukee industrial market experienced another robust quarter during Q3 2017. The overall vacancy rate in the market clocked in at an all-time low of just 3.7 percent.
Nearly 1.7 million square feet of industrial space was absorbed during the third quarter, with 346,000 square feet coming from new constructions and expansions that came online and were immediately occupied by users. No speculative space was delivered during Q3, but 620,522 square feet of speculative space is currently under construction. Total square footage under construction is nearly 1.8 million square feet, with a majority of that space expected to come online before the end of Q1 2018.
Lease rates in each sector fluctuated this quarter. Industrial/Manufacturing rents rose by $0.19 to end Q3 at $4.49/SF while Warehouse/Distribution properties saw a similar increase, rising by $0.18 to end the quarter at $4.46/SF. Flex/R&D properties saw the opposite effect when rents dropped by $0.19 during Q3 2017 to $5.35/SF. However, the overall NNN asking rental rate for the Milwaukee industrial market remained relatively flat at $4.80/SF (+$0.05).
The largest jump in rental rates came from the Racine County submarket, where the overall industrial asking lease rate increased by $0.26/SF to $4.42/SF NNN. Industrial/Manufacturing rent jumped to $4.28/SF (+$0.44) and Flex space to $5.00/SF (+$0.25), while Warehouse/Distribution properties remained steady at $4.58/SF.
Racine County was also the site of the biggest economic news in the region during the third quarter, when Foxconn announced that it plans to build a $10 billion factory in the county, with the potential to employ 13,000 workers in the coming years. The factory will add 20 million square feet of industrial space to the market. When combined with Foxconn's suppliers who may also locate to the region, expect the Racine County industrial market to double its size within the next five years.
The unemployment rate for the Milwaukee metropolitan statistical area (MSA) increased by 80 basis points to 3.9% between May and August, while the national unemployment rate increased by 40 basis points to 4.5%.
DOWNLOAD THE FULL REPORT HERE:  The Barry Bulletin – Industrial Q3 2017
Want to download the full report?